The return of Monica Lewinsky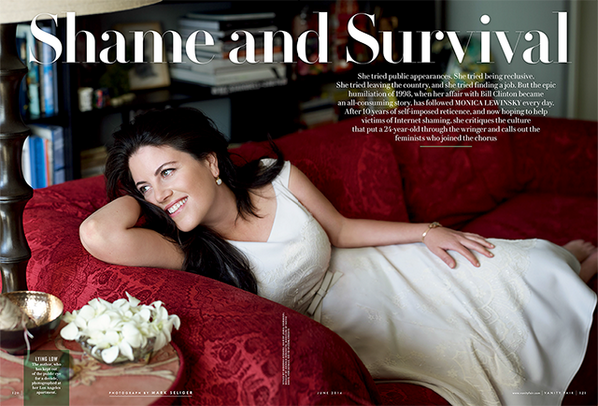 After keeping out of the spotlight for more than a decade, Monica Lewinsky was back in the headlines Tuesday (May 6th) in a surprise new essay in Vanity Fair. In excerpts out yesterday, the former White House intern, who's now 40, writes that it's time to stop, quote, "tiptoeing around my past -- and other people's futures," saying she'd made a point of staying quiet during Hillary Clinton's 2008 presidential run. She states, "I am determined to have a different ending to my story. I've decided, finally, to stick my head about the parapet."
Some of what Lewinsky writes:
"Sure my boss [President Clinton] took advantage of me, but I will always remain firm on this point: it was a consensual relationship. Any 'abuse' came in the aftermath, when I was made a scapegoat in order to protect his powerful position. The Clinton administration, the special prosecutor's minions, the political operatives on both sides of the aisle, and the media were able to brand me."
"I, myself, deeply regret what happened between me and President Clinton. Let me say it again: I. Myself. Deeply. Regret. What. Happened."
"It's time to burn the beret and bury the blue dress."
"I was . . . possibly the first person whose global humiliation was driven by the Internet."
Lewinsky, who despite earning a master's degree in social psychology from the London School of Economics, said she's had trouble finding work because of the scandal, says she was motivated by the 2010 suicide of gay Rutgers University student Tyler Clementi, who killed himself after a video of him kissing a man was streamed online as a "joke." She says she remembers contemplating suicide during the Clinton scandal and in its aftermath, and wants to get involved in efforts to help victims of online humiliation and harassment, and to start speaking publcly about it. She said, "Perhaps by sharing my story, I might be able to help others in their darkeset moments of humiliation.
Clinton first broke her silence in a March 1999 interview with Barbara Walters, one month after Clinton was acquitted in the Senate following his impeachment. She also cooperated with Andrew Morton on his book, Monica's Story, the same year.
CHECK IT OUT:

Bill is a native of Savannah, Georgia.
He's a graduate of Groves High School (1966). Bill earned a BA in broadcast journalism from University of Mississippi (1970) and a Masters in liberal arts and communication from Armstrong-Atlantic State University (2010). Bill got his first taste of the "military life" in high school in the Army Junior ROTC program at Groves where he was drill team commander his junior year and cadet colonel his senior year. At Ole Miss he enrolled in the Army ROTC program there and, upon graduation, was commissioned a 2nd lieutenant in the U. S. Army Signal Corps. His active duty was spent mostly in the reserve and served in a transportation unit in Charleston and Wilmington, N. C. and later in a military intelligence unit in Savannah achieving the rank of captain before retiring. Bill is married to the former Pam Tavormina and has seven grandchildren. In community work Bill is active and past president of the Downtown Savannah Kiwanis club and he and Pam are members of the Savannah Navy League. He also operates a mobile DJ business: Sounds Exciting, Inc. After working at the Ole Miss campus radio station and various broadcast summer jobs he began his professional career at WCIV-TV 4 in Charleston, South Carolina as a staff announcer and soon worked his way up to assistant sports director.Following a brief stint with the Myrtle Beach Chamber of Commerce, Bill returned to Savannah as the news and sports anchor for WJCL-TV 22. After becoming sports director he hosted Georgia Southern University's TV football program The Erk Russell Show for nine years. He also worked as news director for several radio stations in Savannah including WSGA/WZAT and WAEV-FM. He also taught in the video department at Savannah College of Art and Design for several years teaching TV production, lighting, and pre-production. Bill began his career in radio and returned to it full time in 2000 and became host of what is now AM Savannah on News Radio 1290 WTKS in February 2002. He has helped WTKS win the honor of "Savannah's Favorite Talk Station" three years in a row as voted on by readers of Savannah Connect. He was also recognized by Associated Press for Sportscasting Excellence when he worked in television. Bill is married with three stepchildren and five grandchildren. A member of the Savannah Kiwanis Club where he served as president and Key Club advisor. His hobbies include his job, music, and spending time with his wife and grandkids.